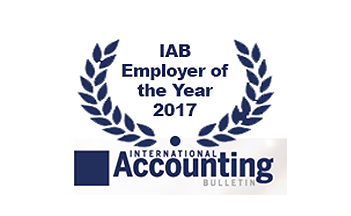 A panel of judges reviewed all submissions and officially named Grant Thornton the winner at the awards dinner earlier this month.
In winning Employer of the Year, IAB said: "Grant Thornton is recognised in the market for its particular focus in the last few years on its employees, both at member firm level and global level. Grant Thornton has embedded in its 2020 strategy the objectives of being the most recommended firm not only [by its] clients but also by its people.
It aims to achieve this through a number of initiatives but in particular through transformational leadership and what it refers to as "people experience," which aims to put people at the heart of everything it does. Jurors described the submission as simply outstanding."

The award reflects our dedication to creating a differentiated and distinctive people experience across the whole of Grant Thornton. It is the culmination of the amazing work happening around the world in the P&C community to make Grant Thornton into the most recommended firm by our people. I am so pleased that the IAB recognised the incredible work we are doing here at Grant Thornton. These achievements have and will continue to shape the future of our organisation, paving the way for success as we work towards our global vision.