If you already have an internal audit function, do you consider it is adding real value to your organisation?
Do you receive robust independent reporting at your Board that confirms your internal controls are appropriately designed and implemented effectively so mitigating your key business risks? If not, have you considered the need to establish an internal audit function?
Internal audit has always been one of the cornerstones of corporate governance. Recent events have increased its profile as Boards have become more aware of the importance of understanding risk and regulators are demanding improved control to protect customers.
Unlike external auditors, internal audit looks beyond financial risks and statements. Its focus is on the wider issues that help businesses mitigate the risks to which they are exposed as they seek to achieve their business objectives. This means the strategic value of internal audit is greater than it has ever been.
At Grant Thornton we combine our industry knowledge with our risk-based internal audit methodology and tailor our internal audit offering to your size, sector, risk appetite and regulatory requirements. This enables us to offer you a fully outsourced or co-sourced internal audit service that is right for your needs.
Our internal audit services:
Full outsourcing of internal audit
Co-sourcing with the existing internal audit function
Provision of specialist internal audit services e.g. IT, treasury
Internal audit quality assurance reviews
Internal audit start up assistance
Process mapping and process reviews
Internal controls documentation and testing
The benefits to your organisation:
Increased efficiency and effectiveness of the internal audit function
Reduced costs of hiring, training and retaining quality personnel
Assessment of the risks associated with regulatory compliance
Best practice and value added recommendations for corporate governance, process and control effectiveness and efficiency and enhanced profitability and delivering cost saving.
Awards
We pride ourselves on our passion for serving our clients and our people - and we're being recognised as a result!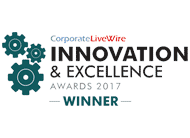 Corporate Live Wire Innovation & Excellence Awards 2017 Winner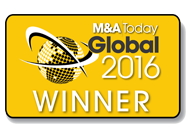 M&A Today Global 2016 Winner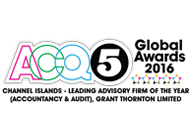 ACQ5 Global Awards 2016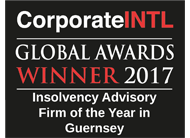 Insolvency Advisory Firm of the Year in Guernsey