Global News
Grant Thornton continues to be one of the 'World's Most Attractive Global Employers'.
Read full article
Grant Thornton Limited is a Channel Islands owner-managed firm that consists of 120 staff and 12 directors. With offices in Jersey and Guernsey, Grant Thornton Limited is one of the Channel Islands' leading accounting, tax and business advisory firms dedicated to serving the needs of privately held businesses, financial services and private clients.
We offer a full range of audit, assurance, tax, corporate recovery and advisory services.
---
What is it like to work at the firm that empowers you to make a real difference?
We are committed to unlocking the potential for growth in our people, our clients, our markets and our communities. We care about the work we do for our clients, the impact we have in society and the way we treat people. We are also committed to shaping a vibrant economy.
Our culture is underpinned by a commitment to our people and our clients. We take a holistic approach, working to understand our clients and our people so we can contribute to their growth – now and into the future.
---
Growing together with our people
At our firm, we don't want you to separate your 'work' self from your 'personal' self. For one, we don't think it's possible. Rather, we value the diversity and individuality of our people; we value your whole self.
We care deeply about all our people. We know that many of you want to create a better balance in your life. You value your family and you want to be authentic to who you are. We're creating an environment where our people are supported to fully embrace and achieve the things that are important to them, both professionally and personally.
We encourage our people to be authentic and we accept that everyone is unique. We foster a collaborative approach in our work because we believe that we are better together. We encourage all our people to continually grow and develop, both personally and professionally and we offer our people meaningful and interesting work so that they can feel confident they are contributing to the growth of our clients. Through transformational leadership, we empower our people to make a difference.
Our People Promise is why staff choose to work at Grant Thornton and why they continue to grow and develop their careers with us.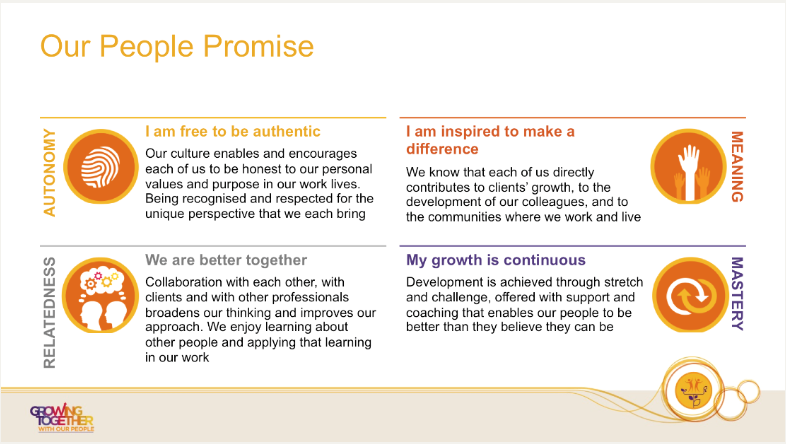 We are focused on creating a truly exceptional people experience that inspires and motivates our people.
---
Growing together with our clients
We endeavour to deliver an exceptional client experience at every stage of the client journey; we listen to our clients to discover what is important to them and we make that important to us. We deliver pragmatic solutions which enable our clients to grow and flourish and we are agile and responsive in the services we deliver, to allow us to act quickly and decisively for our clients. We utilise a collaborative engagement team, bringing together different mindsets to deliver an exceptional level of service.
No matter what level of staff involved in an engagement, we all make a difference and an impact on our clients and their experience of Grant Thornton.
We will continue to build strong and meaningful relationships based on mutual respect with our clients; we will take the time to really get to know them and how their businesses operate.
---
Putting CLEARR values at the heart of everything we do…
We unite through global COLLABORATION.
We demonstrate LEADERSHIP in all we do.
We promote a consistent culture of EXCELLENCE.
We act with AGILITY.
We ensure deep RESPECT for people.
We take RESPONSIBILITY for our actions.
---
How we contribute to our local community
At Grant Thornton a key part of our strategy is to help our community to grow. For further information, please visit our Corporate Social Responsibility page.
For more detail on the work we do please visit our Facebook Page.
---
---
Encouraging a positive lifestyle
At Grant Thornton we aim to be fit, healthy and active. We run regular health and wellbeing initiatives and frequently participate in, and sponsor, various island sporting events, including marathons, cycling, cricket and rugby. Our annual Grant Thornton Inter-Insular STEP Challenge is a great way for staff to get fit and bring out their competitive side!